Brand Spotlight: Cotopaxi Del Día
Imagine a world where we find purpose in "waste" and bring new life to things, to give them a second chance. Imagine the impact that would have on our planet, the relief we can offer to Mother Earth. To let her come up for air
and take a deep breath.
Cotopaxi's Del Día collection was strategically and mindfully created to do just that.
The Del Día collection blossomed from the idea to empower their factory workers in the Philippines as true makers. The design team was on a mission to create products that would also give the workers more creative control. Knowing this would also have also have a green impact, Cotopaxi committed to using leftover remnant fabric from other companies' production and the Del Día line was born. The factory workers are now given complete control and can create one-of-a-kind colorways from the vibrant, leftover fabric—each color combo the unique signature of an indispensable maker.
Del Día packs are the product of many hands and come in all sorts of shapes, sizes and colors (quite literally). Cotopaxi's (Re)Purpose™ Collection uses remnant fabric, which is fabric left over from other companies' larger production runs. But whether the pack features aquamarine blue, deep purple or ruby red—that's up to the sewer. They put together the funky color combos that make each pack distinct, giving them final creative control over every Del Día backpack, satchel, and fanny pack. The fabric is made of unused, high-quality nylon that would have otherwise ended up in a landfill—uniquely reassembled and given new life.
Each pack from the Del Día collection is made with the same quality and assurance as any other Cotopaxi product. They're built to last, sustainably sourced and ethically made. And when in doubt, you can always count on their lifetime warranty and repairs.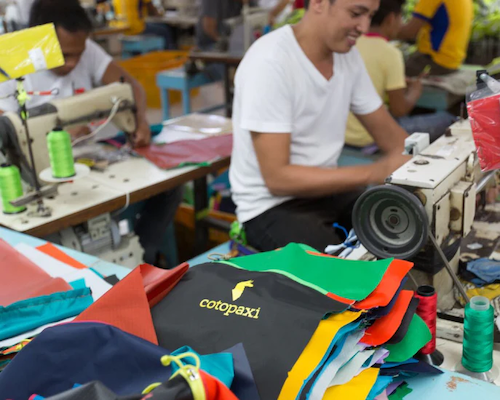 Cotopaxi is a proud business member of 1% for the Planet, a global collective of companies and individuals committed to donating 1% of sales to causes that support a healthier planet for all. It's woven through their products to give back and take a stand for a better planet, starting with the Del Día collection. Each Del Día piece is unique to you and the maker who made it.
Leftovers doesn't mean less and the Del Día collection proves that.