Cookin' Up Something Green
Picture it- it's Friday night, you've found a new recipe to try, you're feeling inspired, your kitchen is clean and just waiting for you to whip up something delicious. You've done your grocery haul or maybe visited the local farmers' market, you have everything you need and you're all set to go. Fast forward, you've conquered the recipe and the meal far exceeded your expectations. Thankfully, you have leftovers so you get to enjoy it again! You grab your plastic bags, saran wrap and throw the dishes in the sink. But have you ever taken a moment to think about the impact of our kitchen goods? The unnecessary plastic waste from leftovers, or even the harmful materials in our every day sponges? The good news is, we've laid out a few different options to help create and make your kitchen more earth-friendly!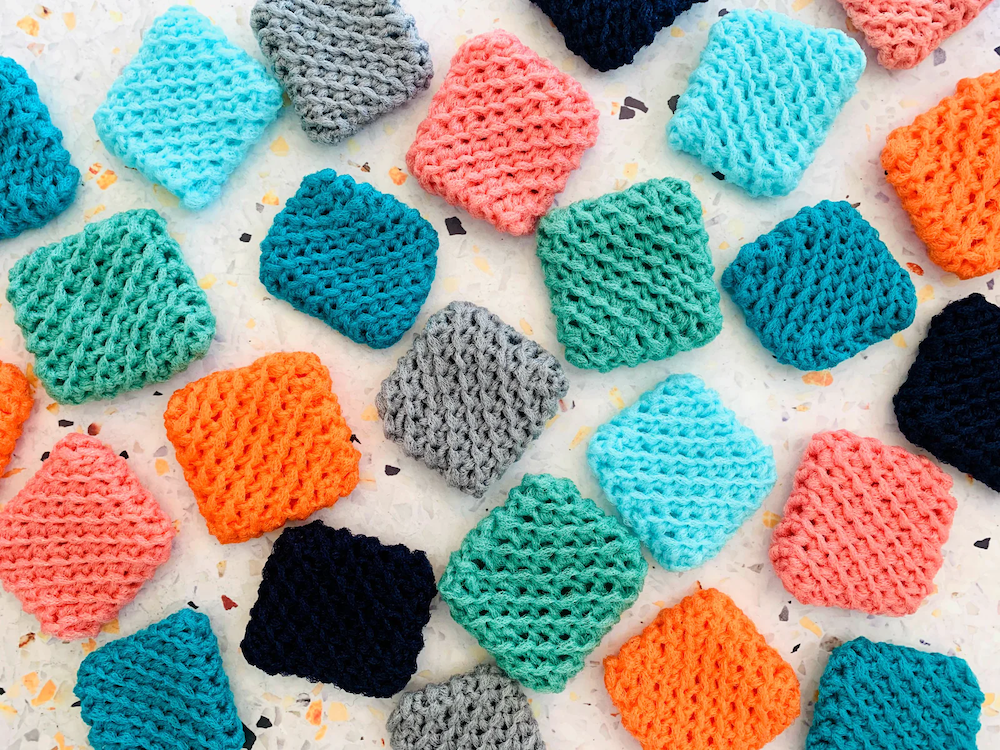 Dot and Army Scrubbers VS Standard Kitchen Sponge
Let's kick it off with the basics, our everyday dish sponge! Did you know that the average kitchen sponge consists of micro-plastics that are harmful to the ocean and can include toxic chemicals such as pesticides? And, the short lifespan means you're constantly replacing them. Plus, one of our biggest pet peeves are stinky sponges! We stopped buying grocery store sponges years ago, and switched over to these hand-made Dot and Army Scrubbies. They are so durable. One will last about 6 months, and some of our customers say up to 12 months! They are safe on all surfaces and you can throw them on the top rack of the dishwasher and let air dry to clean them!
No Tox Life Dish Brush VS Standard Dish Brush
Tired of using that same old plastic dish brush that's growing bacteria and gunk? It's time to try out a No Tox Life Long Handle Dish Brush! This brush design has long bristles and a thick bamboo head that is less prone to cracking. The handle features a hook that can be easily hooked in various places in your kitchen. The head of the brush is replaceable. The wooden handle and head of the brush is made from Moss Bamboo with stiff agave fiber (vegan) plant bristles and held together with metal wire. When its time has come (bamboo isn't meant to last forever) the wood and agave fibers are compostable and the metal wires can be broken down and recycled. A completely recyclable dish brush!
Dot and Army Cloth Covers. VS Tupperware
If you're still using those plastic Tupperware dishes, consider all the alternative options that are now available! Over the years, we have learned that most plastic materials are not biodegradable. In turn, when they make it to landfills, they take hundreds of years before they break down. There are also side effects to your health for storing, and especially heating up food, in plastic containers. Have no fear, these Dot and Army Reusable Bowl Covers can help out with all of your leftover needs! The three pack is offered with three different sizes and are perfect for covering bread dough, a salad, plate of cookies, or anything else you may have made.They're made from 100% cotton so they're durable and a breeze to clean. They easily keep the bugs off of your food when dining outside. Avoid using cling wrap and adding more single-use plastic to landfills - the earth will thank you for it!
Bee's Wrap VS Saran Wrap
On the note of cling wrap, we've got the perfect earth-friendly replacement option for you! Meet Bee's Wrap, the plastic-free, reusable, versatile and sustainable alternative to Saran Wrap. Unlike other plastic food storage alternatives, Bee's Wrap is natural, compostable, and made with only four simple ingredients: organic cotton, beeswax, organic plant oil and tree resin. The result is a truly natural plastic and silicone-free alternative that breaks down in compost. A proud B-Corp and member of 1% for the Planet, Bee's Wrap partners with organizations to remove plastic from oceans, protect pollinators, and inspire environmental stewardship through education.
Swedish Dish Cloth VS Paper Towels
Want to know the fastest way to save 17 rolls of paper towels going to waste? A Three Bluebirds Swedish Dishcloth! What's a Swedish dish cloth you ask? A Swedish Dishcloth is an eco-friendly cleaning cloth that replaces sponges and paper towels. You can use it to clean countertops, do dishes, dust — in the kitchen and bath, and for general household chores. You can use it on granite, stainless steel, glass, wood, or just about any other surface; and it cleans streak-free. A Swedish Dishcloth is more efficient than paper towels - one dish cloth can absorb about 20 times its weight. This option prevents waste and allows you to save trees, water and money! Three Bluebirds is a proud member of 1% for the Planet partnership, and is committed to donating 1% to environmental causes.
Lunchskins Recyclable Bags VS Sandwich Bags
One of the easiest swaps you can make is ditching the single-use plastic sandwich bags! Lunchskins recyclable sandwich bags are eco-friendly, durable, naturally grease-resistant and made from paper. The self-sealing sandwich bag you can feel good about using! Remove the self-adhesive closure strip to seal in freshness. Perfect for: sandwiches, snacks, treats, and so much more. Use them at home or on the go! Plastic sandwich bags often end up as deadly waste in landfills or in the ocean. For hungry sea turtles, it's nearly impossible to distinguish between jellyfish and floating plastic bags. Think of the sea turtles and make the switch! Lunchskins also offers reusable storage solutions in a variety of adorable patterns, and they proudly give 1% of their sales back to organizations that protect our planet.
The kitchen is often overlooked for being a place where we can implement sustainability and earth-friendly supplies. But there you have it! A few simple swaps can make a serious impact! We hope, if anything, this offered a little inspiration. You deserve to feel good about cooking up your next meal in your kitchen!